Donate
Would you like to pay with cash, check, or an ongoing monthly payment via credit card? Please print out and mail in your donation form.
WDBX accepts donations through GoFundMe! You can donate any amount you wish. Click the GoFundMe badge to go to the site: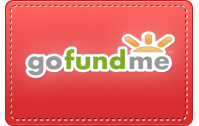 You can also support WDBX via PayPal! Please include your name and address with on-line donations so we may thank you for your contribution. Use the payment buttons below.
Don't have a PayPal account? Go ahead and click and you'll be able to sign up for one. It's secure, safe, and free!
$10 Donation to WDBX
$25 Donation to WDBX
$50 Donation to WDBX
$100 Donation to WDBX
$250 Donation to WDBX
Generally, WDBX holds two membership drives per year. These accounts for approximately 43% of the annual budget.

Underwriters
Underwriters are businesses, individuals, or organizations that support the station through donations or in-kind trades and are acknowledged for their contributions with on-air announcements. (Accounts for approximately 45% of the annual budget.)
Fund Raisers
Throughout the year, WDBX presents a number of fund-raising events. (Accounts for approximately 7% of the annual budget.)

The Rest
The rest of our income comes from CCHS sports broadcasts, Community Shares of Illinois contributions and merchandise. (Accounts for approximately 5% of the annual budget.)